Our Services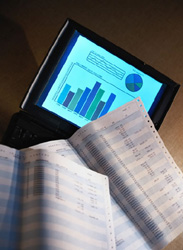 Annuity Report™ is an in-depth personalized written report that is specifically designed to help pre-retirees and retirees obtain a better understanding of the variable annuity contracts they already own. We will provide you with a detailed analysis of contract structure and features as well as advice on how to potentially improve the utilization of your variable annuity contract's benefits.
Most importantly, through our proprietary software, we will provide you with a "stress test" to determine if your existing variable annuity contract is likely to provide the intended total benefits to both you and your family. This will also include our exclusive Annuity Drain Rate™ Analysis which illustrates the combined impact of both fees and your income withdrawals to show if and when your variable annuity might reach a critical drain rate and/or a terminal drain rate.
The written analysis inside your personalized Annuity Report™ will include the following:
Contract Structure and Features

Ownership Structure (Owner vs Annuitant Driven)
Beneficiary Designation Issues
Spousal Benefits and Contract Continuation

Contract Benefits

Explanation of how your specific combination of benefits can be used to help you achieve your stated goals
Living Benefit Riders

Guaranteed Minimum Income Benefits (GMIBs)
Guaranteed Minimum Withdrawal Benefits (GMWBs)
Guaranteed Minimum Accumulation Benefits (GMABs)

Death Benefits

Standard Death Benefits
Fixed Percentage Increases
High-Water Marks
Lump Sum Payouts vs Stretched Payouts

Earnings Enhancement Riders

Contract Withdrawals

Understanding your Account Value vs Benefit Base Value
Annuity Drain Rate™ Analysis
Explanation of how withdrawals and/or excess withdrawals may affect the benefits

Pro-rata Withdrawals vs Dollar-for-Dollar Withdrawals

Comprehensive Review of Investment Options
Contract Fees

Explanation of how fees are calculated and charged against contract values
Annuity Drain Rate™ Analysis
Explanation of how fees can potentially negatively affect your guaranteed benefits as contract values fluctuate over time

Current Contract Values

Annuity Health Check™ - Contract Value vs Income Rider Value Comparisons
Income Rider Value vs Guaranteed Annual Income Evaluation
Surrender Penalties (if applicable)
How We Can Help
Contact us today for your personalized Annuity Report™ which includes a detailed financial analysis and information on the benefits/features of your variable annuity contract. There is a fee of $229 for the analysis of your first contract. Each additional contract is $79. Under certain circumstances these fees may be waived. Please inquire for details.

Please
click here
to begin the process of having your variable annuity "stress tested" by the Annuity Report™ team using our proprietary software. Your personalized report will include our exclusive Annuity Drain Rate™ Analysis.